(CNN)North Korean monitoring service 38 North said Wednesday the country's Punggye-ri nuclear site is "primed and ready" for a sixth nuclear test.

Advertisement



"The activity during the past six weeks is suggestive of the final preparations for a test," 38 North analyst Joseph Bermudez told CNN.

Their prediction comes as Japanese Prime Minister Shinzo Abe said Thursday that North Korea may have the capability to deliver missiles equipped with sarin nerve gas.

He and other analysts pore over commercial satellite imagery of the testing site, looking for signs of activity similar to that prior to other tests.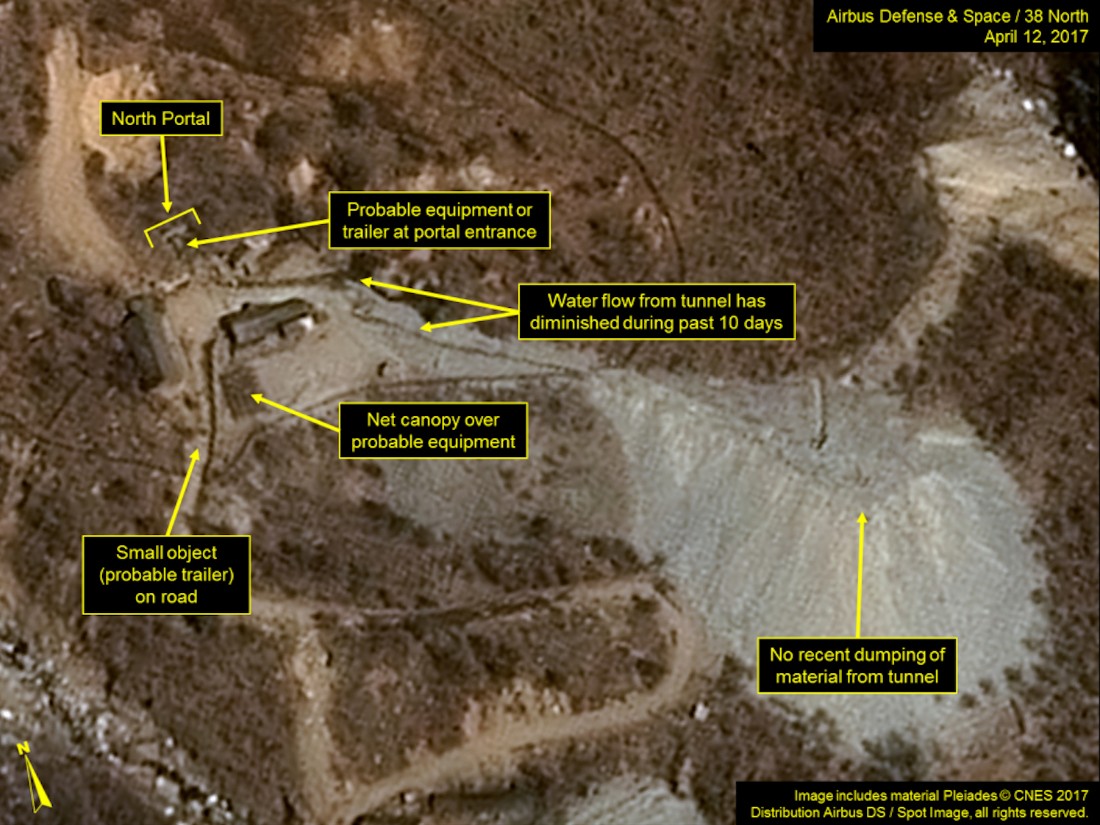 Satellite imagery shows vehicles or trailers parked around the North Portal of the Punggye-ri Nuclear Test Site in North Korea.

Bermudez and his colleague Jack Liu correctly predicted the last nuclear test, in September 2016. Since late February they have been warning of increased activity at the site, particularly new equipment arriving, activity at the command center, and excavation and water pumping from entrances to the underground testing site.

"We watch what changes from image to image," he said. "We take the current image and look back several months and compare it to what was happening then."

After an uptick in recent months, recent satellite images show excavation work and water pumping appears to have stopped, Liu and Bermudez said, indicating to them that a test may be imminent.

Speaking at an event in Tokyo Thursday, Yukiya Amano, director general of the International Atomic Energy Agency, said "North Korea's nuclear program is showing steady progress."

Trump's saber-rattling is North Korea's propaganda dream come true

Nuclear tests

North Korea has conducted five nuclear tests in total, three of them under current leader Kim Jong Un, who has significantly ramped up the country's program.

"North Korea believes the only way to deter the US from attacking them and maintaining the power of the Kim regime is by the possession of nuclear weapons," Bermudez said.


To read more, please visit: http://www.cnn.com/2017/04/13/asia/north-korea-nuclear-site-...