Police evacuated 115 residents on Wednesday from the facility, whose air conditioning was cut by the storm.

Advertisement



Broward County Mayor Barbara Sharief said three were found dead at the nursing home in the city of Hollywood. Five others died in hospital.

Ten million people are still without power in Florida, Georgia and the Carolinas after Hurricane Irma.

The storm - which has claimed more than two dozen lives in the US - struck southwestern Florida on Sunday morning as a category four hurricane before weakening to a tropical depression on Monday.

Irma earlier left a trail of destruction in the Caribbean, where nearly 40 people were killed.

Hollywood Police Chief Tomas Sanchez said the Rehabilitation Center at Hollywood Hills facility has been sealed off and police are conducting a criminal investigation.State investigators from the Florida Office of Attorney General were also at the scene, city officials said in a statement.

"It may be related to a loss of power in the storm," Mr Sanchez said, adding that officers were checking in on 42 other assisted living facilities and nursing homes throughout the city.

Florida Governor Rick Scott also ordered emergency workers to check on nursing homes and assisted living facilities to ensure residents are safe.

"This situation is unfathomable," he said.

Hollywood Fire Rescue found several patients "in varying degree of medical distress and immediately began treatment" when they arrived at the Hollywood Hills facility on Wednesday morning, according to the city's statement.

Some residents there awoke sick, the Miami Herald reported.

Kitchen worker Jean Lindor told the newspaper a generator allowed staff to cook but did not provide the facility with air conditioning.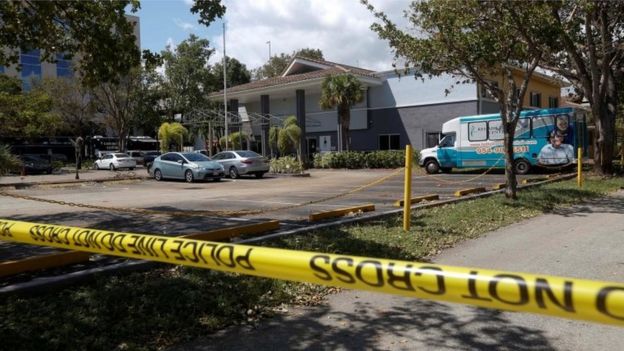 Image copyrightREUTERSImage captionRescue crews found several patients in "medical distress"Temperatures on Tuesday in Hollywood reached 32C (90F), according to the National Weather Service.

The nursing home has had brushes with the regulators in recent years for violating federal rules on its power system, a generator and because of a faulty alarm, according to records.

The Florida Health Care Association called Wednesday's deaths a "profound tragedy within the larger tragedy of Hurricane Irma".

Who were the nursing home victims?

Bobby Owens, 84
Manuel Mario Medieta, 96
Miguel Antonio Franco, 92
Estella Hendricks, 71
Gail Nova, 71
Carolyn Eatherly, 78
Betty Hibbard, 84
Albertina Vega, 99


The facility is not the only Florida nursing home that has been left without power by Irma.
An estimated 150 facilities out of the nearly 700 in the state are currently without full power services, the association said.Popular with retirees, Florida is home to more than 680 nursing homes, which house about 73,000 residents, according to the Florida Health Care Association.

Assisted living facilities across the state serve an additional 92,000 residents.

But concern for the safety of Florida's 3.6 million senior citizens is growing as officials struggle to restore power amid sweltering temperatures.

The association said it was working with officials to prioritise "the locations with the greatest need".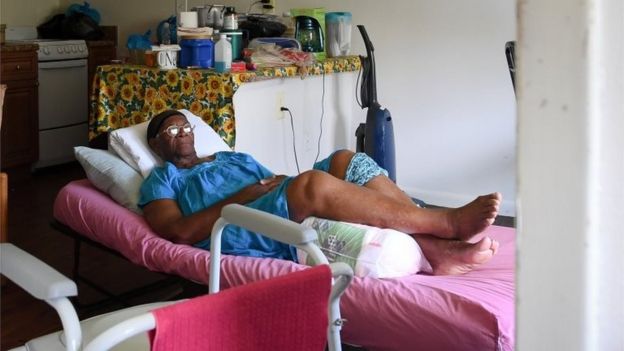 Image copyrightREUTERSImage captionPower has yet to be restored at 150 of the nearly 700 of Florida's assisted living facilities, officials sayMiami-Dade County Mayor Carlos Gimenez said officials were providing ice to 27 senior residence facilities still without power, local media reported.

More than half of a large retirement community in Pembroke Pines, Florida, still had no electricity by Wednesday afternoon, leaving elderly residents stuck in rooms with no access to lifts.

Pembroke Pines police spokeswoman Amanda Conwell told the Miami Herald that officers were at the scene.

She said some of the 15,000 residents at Century Village were vulnerable and "we are concerned about their welfare".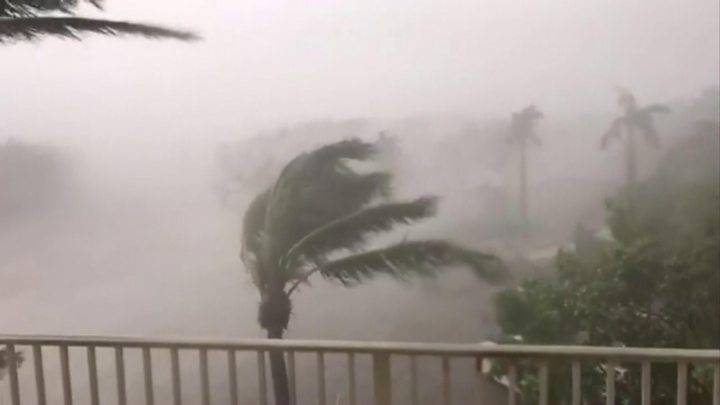 Media captionThe Florida Keys was one of the US areas hit hardest by IrmaAnother assisted care facility for dementia patients in Fort Myers, Florida, went without power for three days after Hurricane Irma.

Cape Coral Shores kept 20 elderly patients during the storm because local emergency shelters had been evacuated as Irma bore down on the coast.

At least six people appeared to die of carbon monoxide poisoning from generators in Florida, the AP news agency reported.Florida residents are counting the cost of Irma's destruction.

Authorities estimate 25% of the homes in the Florida Keys were destroyed and 65% sustained major damage.

US President Donald Trump will visit the hard-hit Florida cities of Naples and Fort Myres on Thursday to view the damage.