Multiple deaths, injuries reported after SUV plows into crowd at Massachusetts auto auction
DEVELOPING: Multiple people were killed and several injured Wednesday when a jeep sped through a crowded auto auction in a small Massachusetts town, authorities said.

Advertisement



The crash happened around 10:30 a.m. at LynnWay Auto Auction in Billerica, about 20 miles northwest of Boston, Fox affiliate WFXT-TV reported.

Officials have not yet confirmed the number of fatalities or injuries at the scene.

"At this point, there is no evidence or information to suggest the incident was caused by an intentional or terrorist act," the Massachusetts State Police said in a statement. "All evidence and information at this time suggests an accidental cause."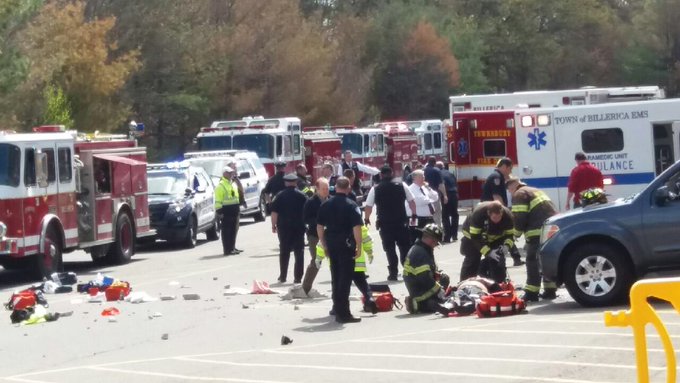 Witnesses say elderly man behind wheel of Jeep that slammed into group of people...was taken away in ambulance. Injuries & fatalities #wbz




Witnesses described seeing the vehicle "speeding up through the auction" and said it appeared to have been an accident, according to local reports.

"It hit the wall all the way to the end. It's a concrete wall. So many people are hurt, I have no idea," a witness told WBZ-TV.

Employee Woody Tuttle told WCVB-TV he heard tires screeching and saw the vehicle strike several people.

Tuttle told the station: "(The driver) avoided the cars and went on to hit the people who were standing between the cars."

Some witneeses said an elderly man was seen behind the wheel of the jeep, according to local reports.

Images from TV helicopters show a vehicle covered in debris that appears to have crashed through an exterior wall from inside the building.

Several ambulances were on the scene, and medics wheeled people out of the building on gurneys.


To read more, please visit: http://www.foxnews.com/us/2017/05/03/suv-plows-through-crowd...