DEVELOPING – Delaware police appeared to be closing in on a suspect accused of shooting a state trooper multiple times Wednesday at a Wawa convenience store.

Advertisement



The shooting unfolded at a store near Salem and the trooper, who was not identified, was taken to a local hospital in unknown condition, ABC 6 reports.

It was not immediately clear why the officer was shot.

A male suspect has been tracked down by local police and has refused to follow orders to surrender. The suspect has continued to fire rounds at police officers.

View image on Twitter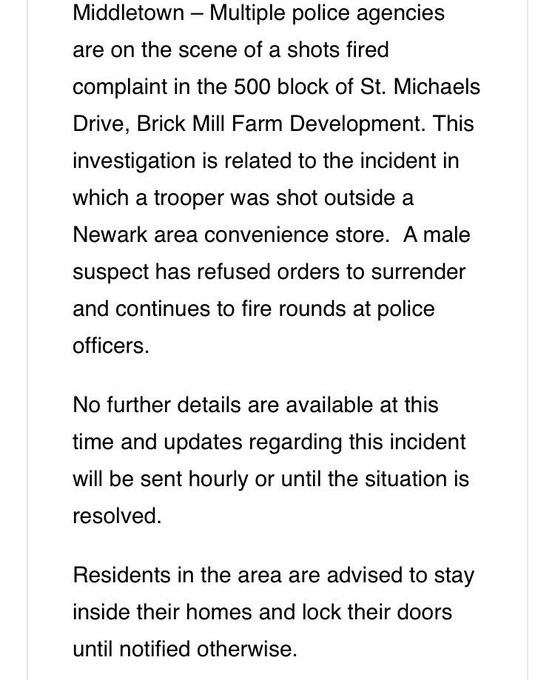 Follow



Dave Kinchen 🇺🇸FOX

✔@DKinchenFOX29

#BREAKING details in probe of #DE Trooper shot. Suspect continues to fire at police. @FOX29philly

3:09 PM - 26 Apr 2017




Local schools in the Appoquinimink district have all gone on lockdown after police informed the district that an armed individual was in the vecinity. A field trip was returning to the school when the lockdown began and the students were diverted to a different location.

A witness told The News Journal that he was stopped at a red light near the store and heard gunfire. When Clarence Travers looked over, he saw an officer in a blue uniform fall to the ground.

Travers told the newspaper that a man then got out of his vehicle, walked around the officer's SUV and shot the officer on the ground multiple times before running off.

Travers said he pulled away from the intersection.

"I wanted to get away from that," he said.

Monica Moore, another witness, told The News Journal that she saw the trooper on the ground face down and people began rushing over to give him CPR.

"Our thoughts and prayers are with the Delaware State Police during this time. Please keep the Officer who was injured in your prayers," the University of Delaware police posted on Facebook.

A video of the scene taken shortly after the shooting showed ambulances and police officers gathered in front of the store, which was blocked off by crime scene tape.


To read more, please visit: http://www.foxnews.com/us/2017/04/26/delaware-trooper-shot-p...